COVID-19 Response
Tacten is committed to serving our customers diligently while protecting our employees and field colleagues as we perform essential work for our communities.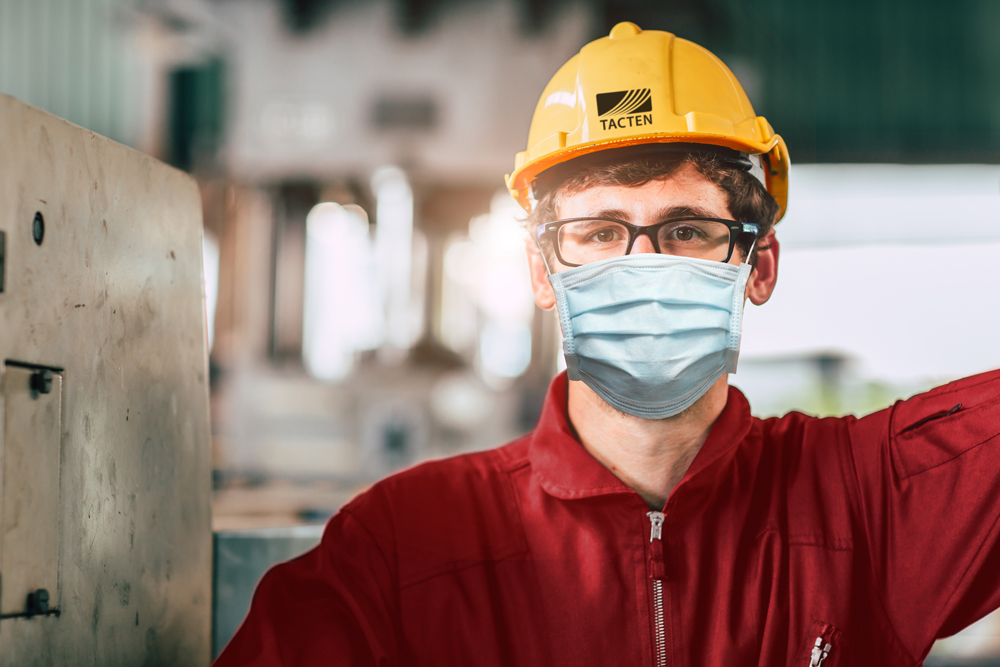 We have implemented our pandemic plan in response to the COVID-19 virus impact to ensure that all our facilities and employees are working with our established controls and reporting any concerns to our COVID task force.
To ensure we are providing the best service, our offices remain open. We have implemented guidelines across our operations to mitigate business and operational disruptions while enhancing the safety for our employees and customers.
Our team has developed and distributed internal processes and guidance for employees to immediately report cases of exposure or potential exposure to COVID-19, this allows us to reduce further exposure to those employees and any other employees they have worked closely with.
Tacten has taken steps to track and monitor employees with direct and indirect exposure through our in-house software (PANGEA) that actively helps us guarantee there are no situations that our management and leadership are unaware of.
We are continuing to update our COVID-19 response plans in line with government authorities and local communities and have taken direct action to adapt our emergency response plans to deal effectively with the pandemic.
Our facilities have all been assessed with our internal COVID hazard assessment, where controls such as social distancing and donning a facial covering are in place across our operations to limit person to person interaction and exposure. Additionally, we have implemented remote work, staggered work schedules, employee health screenings, return to work procedures, travel restrictions and other proactive controls to ensure our employees' health is our primary concern.
Work the right way, the safe way
Tacten has the appropriate plans in place to continue serving our customers effectively. All facilities are operating and here for you as we support some of our most essential industries. Our employees continue to provide high-quality services at our customers' facilities and are performing laboratory services as requested.
We have communicated our Pandemic Policy to all employees to help ensure all personnel fulfill their duties wherever possible and all stakeholders remain safe.
COVID-19 Preparedness

As the transmission of the COVID-19 virus increases around the world and within our own communities, we want to make our customers aware that, in most jurisdictions, we fall within the essential services exception and we can perform the services customers require on their sites. We want to take a moment to update you on the measures we continue to implement to ensure business continuity and transmission reduction:

We continue to share regular communications with employees to ensure we are providing important news about the status of the virus and the actions taken by the company;
The Tacten COVID-19 email address continues to act as a valuable resource to which employees can send questions and concerns, and request other support related to COVID-19;
Our single point of contact continues to be a central resource to respond to issues related to the virus and associated company direction;
We have responded in real time to take appropriate measures in communities where we are informed of governmental restrictions that have a direct effect on our employees;
Alternate work provisions and enhanced infection control practices have been implemented across the business to minimize the potential for spread of the virus in our offices and field work locations;
On an almost daily basis we post valuable educational and informational resources on our online portal for the benefit of all North American employees;
We regularly remind employees of the critical need to comply with infection prevention and control measures such as frequent hand washing, appropriate respiratory etiquette and instruction to stay home if feeling unwell,
We continue to monitor and adjust our inventory of consumables and critical equipment to ensure we are equipped to respond to client needs in the event of a supplier shortage;
We have maintained frequent interaction with our leadership team on this matter to ensure we remain fully informed of changing circumstances;
We monitor the use of a disclosure form completed prior to employee's returning to work to identify the presence of any symptoms related to the coronavirus, any personal travel within, or personal contact with travelers to/from, any international location, within the previous 14 days. This has been integrated into our onboarding plan for new projects;
We have distributed our Pandemic Plan to address the challenges presented by the current viral spread and to plan for the continuity of our services;
We have instituted restrictions on travel that is not business critical and have expanded our use of virtual meeting software.
We continue to communicate with our clients regarding the status of our actions, the preparedness of our business, the availability of our workforce, and our express intention to work in partnership to maintain the safety and health of our employees on their sites;
We continue to provide instructions related to isolation and quarantine requirements as per the CDC and WHO, and to ensure such requirements are met by affected employees;
Where we have employees, who test positive for the virus, we have implemented a protocol to ensure all potentially affected parties are notified and proper precautions taken.

Our primary concern is always employee and client safety. To this end, we will continue to add to, or modify, our preparedness program in reaction to this evolving situation. We thank you in advance for all your efforts in doing the same, and, as always, we commit to working with you to ensure a safe worksite for all employees.