Civil Infrastructure
Service-Ability
Tacten and its RAT Team provide a wide range of rope access services to the rail, highway and urban development sectors.
From overpass and pier inspections to cable installation or concrete coring in difficult access areas, our experience ensures that our clients are provided with safe, long lasting and esthetically pleasing results.
Our highly trained and skilled technicians provide the high quality of service that our clients have come to expect from the access experts – Tacten.
Tacten's methods are safe and our workmanship is guaranteed. Some of our expertise and capabilities in the civil infrastructure and construction segment include, but are not limited to, the following:
Bridge inspection, maintenance and repair
Concrete coring and repairs
Stress analysis equipment installation
Coatings and steelwork Maintenance/repair
Visual inspection
Bridge construction support
Fabric roof construction (BC Place)
Caulking
Concrete repairs and inspection
Marine jetty construction and maintenance
Steel roof inspection/repair
Rigging and hoisting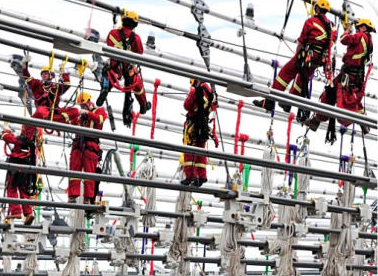 As outlined on our general industry page, the following projects are also within our scope for offshore oil and gas customers:
Asbestos abatement
Rope access solutions
Asset installation
– sluice spools, fibre optic cable, flare tip, etc.
Confined space
– rescue services, inspection, maintenance, support for other contractors
Fall arrest and restraint equipment installation
General maintenance / operations assistance
Rescue training
Shut down / turnaround support
We would love to speak with you about your requirements and projects. Please contact us at info@tacten.ca.