Marine
Conceive-Ability
Ship owners are constantly seeking new, safe and cost effective methods for surveys and repair. Tacten and its RAT Team provide efficient and innovative inspection, maintenance and repair services to the marine transportation industry.
Our inspectors and technicians provide surveys on vessels for a number of classification societies as well as contracted rescue services and confined space, fall protection/rescue hazard assessments. Our welding teams are CWB certified and can access those areas of your vessel previously seen as too costly to repair. Our inspection teams are CGSB, PCN & SNT-TC-1A certified in various techniques including UT, MT, PT, EC & DR.
We are able to undertake a variety of planned survey, maintenance and repair tasks, dockside or at sea, reducing non-productive time and yielding invaluable data for calculating future dry-dock costs and timings.We provide our clients with the high quality of service that they have come to expect over the years from the access experts – Tacten and it's RAT Team.
Our methods are safe and our workmanship is guaranteed.
Some of our expertise and capabilities in the marine segment include, but are not limited to, the following:
Class surveys
Coatings repairs
Equipment installation
Welding repairs
Electrical and piping systems installation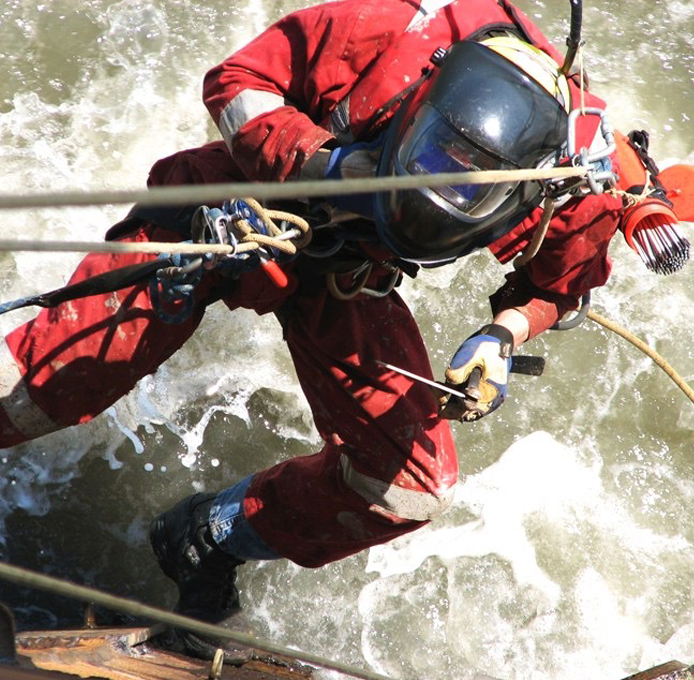 As outlined on our general industry page, the following projects are also within our scope for offshore oil and gas customers:
Asbestos abatement
Rope access solutions
Asset installation
– sluice spools, fibre optic cable, flare tip, etc.
Confined space
– rescue services, inspection, maintenance, support for other contractors
Fall arrest and restraint equipment installation
General maintenance / operations assistance
Rescue training
Shut down / turnaround support
We would love to speak with you about your requirements and projects. Please contact us at info@tacten.ca.